Captain Beyond - s/t (1972 - progressive hard rock: BOC, Groundhogs, Stray)
Singer Rod Evans (formally of Deep Purple), guitarist Larry "Rhino" Rheinhardt, bassist Lee Dorman (both from Iron Butterfly), and drummer Bobby Caldwell (from the Johnny Winters group) give you some indication of what this band will sound like - hard rock with a progressive complex song structure and strong musical dynamic.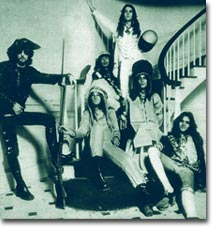 What the fuck does that mean you ask? It means that I'm too lazy to do much work on this one. Pretty hard-rocking most all the way through, but in a pretty mainstream Blue Oyster Cult sort of way. If your really into popular classic hard rock, then you'll dig this (sort of reminds me of the Groundhogs who I
posted
before
), but if your looking for heavier numb-skull dirges you'll have to look else where.
I got this from a friend of mine and it was with the special hologram cover. Wowie Zowie, now that's rock and roll.
- overview quickly slapped together by denez.

Tracklist:

Dancing Madly Backwards (On a Sea of Air)
Armworth
Myopic Void
Mesmerization Eclipse
Raging River of Fear
Thousand Days of Yesterdays (Intro)
Frozen Over
Thousand Days of Yesterdays (Time Since Come and Gone)
I Can't Feel Nothin', Pt. 1
As the Moon Speaks (To the Waves of the Sea)
Astral Lady
As the Moon Speaks (Return)
I Can't Feel Nothin', Pt. 2
168 kbps, ripped from vinyl.
You could buy this album
here
at Amazon, but I'd suggest you don't support that corporate media whore, and instead support a different corporate media whore by buying from ebay - get it on vinyl
here!!
OTHERWISE,
CHECK IN THE COMMENTS PAGE!
!!!!! AND LEAVE A COMMENT YOU
SLOPPY MOTHERFUCKERS
kind and dear blog readers!!!!